Originally posted by the  Maquila Solidarity Network on January 19, 2011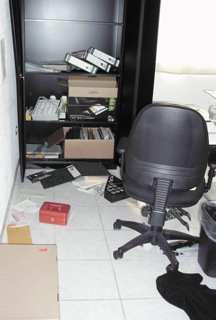 On December 20, 2010, unidentified robbers broke into the offices of the Center for Worker Support (CAT), a labour rights organization that has been supporting organizing efforts at two Johnson Controls, Inc. (JCI) factories in Puebla, Mexico, and scrawled the following message on the wall: YOU DO NOT KNOW WHO YOU ARE MESSING WITH.
The robbers hacked into the e-mail address of Blanca Velázquez, CAT's Executive Director, and the CAT institutional account, stole paper and electronic documents, and destroyed equipment, causing more than 200,000 pesos in damage.
On January 11, 2011, the robbers sent another intimidating message to the CAT team through the hacked CAT institutional e-mail account, describing in detail an earlier violent attack on an activist in Mexico: "KIDNAPPING OF DIGNA OCHOA: In October of 1999 various subjects entered her home, gagged her, blindfolded her and interrogated her during approximately nine hours, to then abandon her tied to her bed by her hands and feet, next to an open gas tank. She was able to free herself and tried calling the police, but the line had been cut."
These recent acts of intimidation follow months of violence directed at the CAT. On April 2, 2010, two former workers for Johnson Controls, Inc. (JCI) and members of the CAT were assaulted. On August 9, three more members of the CAT were threatened while doing fieldwork at JCI. The masked men asked the workers to tell Blanca that if she continued to "mess with CROM", the protection union at the JCI FINSA plant, "there would be consequences." On August 16, two JCI employees and members of CAT were beaten and held hostage for more than seven hours, during which they were assaulted by members of the Confederation of Union Organizations (COS), the former protection union at the JCI Interiors/Resurrection plant.
Although the CAT has asked the Mexican government to take action repeatedly, officials have done little to respond. Meanwhile, the threats continue.
Take Action Now!  Send a letter to the Mexican authorities demanding protection of the life and integrity of the CAT labour rights advocates.
Read more about the struggle at Johnson Controls.
Read more about Blanca Velázquez, the CAT's Executor Director